The Blog
Fall Football Outside on the Big Screen!
After a long, wet Atlanta summer, football season is finally here. What better way to spend a Saturday or Sunday outside than enjoying the weather and watching a football game on a REALLY, BIG SCREEN.

Whether you want a permanent outdoor projector or a portable rig that you can setup and take down as needed, we've got you covered. If you don't want a 100" + screen that a projector will give you, we can also set you up with a flat screen TV in the size of your choice. In addition to the screen, we can give you sound to match the screen size.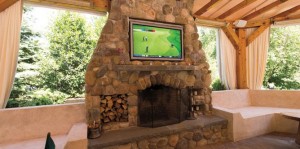 So if you want an intimate setup for a few people or a system that will entertain the neighborhood, we have a solution that is right for you.
Call us for a free consultation and quote: 770-319-9865